84000 Opens Third Grant Cycle!

We are pleased to announce the opening of 84000's third grant cycle!
If you are experienced with Tibetan-English translations, we invite you to join in this global endeavor to make the words of the Buddha freely available to the world.
In the past two years, we commissioned nearly 8,000 pages of translation (67 texts). We are now ready to select the next 4,000 pages to fund through the third round of grants.
Visit www.84000.co/grants and download the latest grant and editorial documents. The application period is from April 15, 2012 through July 15, 2012. For enquiries, please contact us at grants@84000.co.


Reading Room Launch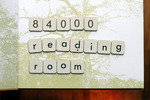 The 84000 Reading Room (read.84000.co) was launched on Losar, with the first eight completed English translations of texts from the Tibetan Kangyur made available free to the public.
Since its opening in late February 2012, more than 3,500 people visited the reading room, with close to 75,000 page views site-wide.
One delighted visitor summed up the reactions of many when she said, "It's a great start. I've really enjoyed reading the first few sutras and anxiously await the others!" Read more…
Sponsor A Page

More than 3,800 pages have so far been sponsored by more than a thousand generous donors. To keep up the pace of translating all 70,000 pages in the Kangyur, we need your help.
A page of translation costs US $250. You can sponsor one or more pages with a one-time gift, a monthly pledge (e.g. US $21 a month sponsors one page in a year), or you may also give any amount to help preserve the timeless words of the Buddha through translation.
We are now able to receive donations via PayPal and credit cards. All donations are tax-deductible to the full extent allowed by US law.
To make monthly donations, click here.
To make a one-time donation, click here.

Guided Video Tour of Reading Room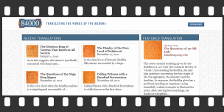 Did you miss the live online tours of the reading room, or would you like to take the tour again?
A video recording of the tour is now available on 84000's website.
Read more…